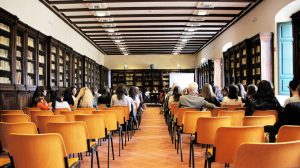 According to the Bureau of Labor Statistics, in November 2018, more than 6.0 million people were unemployed in the United States. That same month, nearly 6.9 million job openings were reported. Forty-five percent of employers have jobs open, they say, because they cannot find qualified applicants to fill those positions. In a CareerBuilder survey, 66% of employers reported that they planned to hire and train workers who may not have the skills needed but who showed potential.
In 2018 companies spent an average of $986 per employee on training. The highest percentage of training dollars budgeted, 39%, went to training hourly workers, followed by non-managerial salaried workers (27%) and salaried managers (24%). Only 10% of the average training budget went to train executives. Training can take many forms, from instructor-led classroom learning to webcasts to self-directed online courses. In practice, most companies use a variety of methods to train their workers. Of those that use only one method, most prefer instructor-led classroom learning, followed by online or computer-based courses and virtual classrooms or webcasts.
More companies expect to purchase online learning tools and systems next year than any other type of training product. At least some mandatory or compliance training is done online at 82% of companies, with 28% of companies providing this training completely online. A vast majority of companies also use online training for sales training, IT systems training, and desktop application training. Online training is least likely to be used for onboarding and executive development.
Today's market size shows the total amount companies in the United States spent on training in 2018. This figure includes payroll for staff assigned to do the training and spending on external products and services, travel, facilities, and equipment. Overall spending in 2018 declined from $93.6 billion in 2017 due to a 33.5% decrease in expenditures for travel, facilities, and equipment. However, spending on outside products and services increased during this time period, from $7.5 billion to $11.0 billion. Payroll for training staff also increased, from $41.6 billion to $47.0 billion.
Geographic reference:
United States
Year:
2018
Market size:
$87.6 billion
Sources:
"2018 Training Industry Report,"
Training
, November/December 2018, pages 18-31 available online
here
; "Job Openings and Labor Turnover – November 2018,"
News Release
, Bureau of Labor Statistics, U.S. Department of Labor, January 8, 2019 available online
here
; "Labor Force Statistics From the Current Population Survey: (Seas) Unemployment Level," Series ID: LNS13000000, Bureau of Labor Statistics, U.S. Department of Labor, Data extracted on February 6, 2019 available online
here
; "44 Percent of Employers Plan to Hire in the New Year, According to CareerBuilder's Annual Forecast,"
CareerBuilder Press Room
, January 8, 2018 available online
here
.
Image source:
claude_star, "convention-conference-meeting-1410870,"
Pixabay
, May 24, 2016 available online
here
.