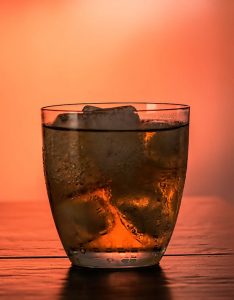 The earliest recorded distilling of Scotch whisky was in 1494, by a monk named Friar John Cor, but the drink back then was not like the Scotch of today. It was considerably more potent and in some cases dangerous to drink. The quality improved in the 16th and 17th centuries as scientific knowledge and distilling equipment improved. Early on the distilling of Scotch took place in monasteries. After the monks were forced to leave, they employed their skills in the wider society and knowledge of the distilling process spread.
Initially, Scotch was consumed for medicinal purposes but later became popular as a social drink. As Scotch became more popular taxes began being imposed, first by the Scottish Parliament and then as a result of The Act of Union with England in the late 17th and early 18th centuries. After that, smuggling became standard practice until the 1830s. According to the Scotch Whisky Association, "by the 1820s, despite the fact that 14,000 illicit stills were being confiscated every year, more than half of the whisky consumed in Scotland was being enjoyed without payment of duty." After the Excise Act was passed in 1823, which made the distilling of whisky legal in exchange for a license fee and a set payment per gallon, smuggling almost completely disappeared.
With the invention of the Patent Still in 1831, grain whisky was invented. Grain whisky was mixed with malt whisky to create a milder form of Scotch that appealed to more people. There are five categories of Scotch: single malt, single grain, blended malt, blended grain, and blended Scotch whisky. Since November 2009, in order for whisky to be called Scotch, it must be made in Scotland and adhere to the Scotch Whisky Regulations 2009, which define and regulate the production, labeling, packaging, and advertising. In 2015, Heather Nelson became the first woman to head a Scotch whisky distillery by herself.
Today's market size shows the export value of Scotch in 2017, which equated to 1.23 billion 70cl bottles. Scotland exports this beverage to more than 200 countries around the world. In terms of volume, the top three countries that received these exports were France, the United States of America, and India.
Geographic reference: Scotland
Year: 2017
Market size: £4.36 billion
Sources: "2017 Export Figures," Scotch Whisky Association, February 9, 2018 available online here; "History of Scotch Whisky," Scotch Whisky Association, May 31, 2012 available online here; "Scotch Whisky," Wikipedia, February 21, 2018 available online here; Matthew Vickery, "Woman Challenges Notion Scotch is a Man's Drink," Lansing State Journal, January 26, 2018, page B1.
Image source: Adapted from: stevepb, "scotch-whisky-drink-alcohol-glass-729638," Pixabay, April 20, 2015 available online here.