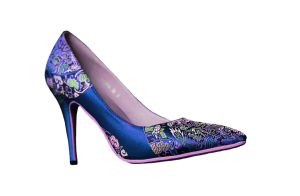 Where were your shoes made? More than 60% of shoes sold globally are manufactured in and exported from China. In China, the market for women's footwear has seen a compounded annual growth rate of 8.7% over the past 5 years. As disposable income rises, many consumers want to buy higher quality footwear. Several foreign luxury brands such as Bally, Christian Louboutin, Gucci, and Louis Vuitton, to name a few, are courting the Chinese consumer by using social media marketing and partnerships with Chinese influencers and celebrities, as well as employing Chinese actresses as spokespersons in order to increase their market share. Today's market size shows the total sales of women's footwear in China in 2016 and 2018. The figure for 2018 is projected.
Geographic reference: China
Year: 2016 and 2018
Market size: 224.7 billion RMB ($33.8 billion) and more than 260 billion RMB ($39.1 billion), respectively
Sources: Christine Lee, "Fashion Houses Fight for Market Share in the Booming Chinese Shoe Market," Jing Daily, July 19, 2018 available online here.
Image source: Capri23auto, "high-heeled-shoes-pumps-2812638," Pixabay, November 2017 available online here.