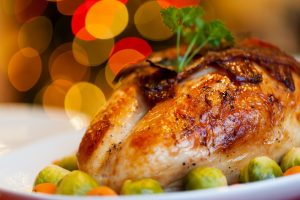 According to the National Turkey Federation, 45-46 million turkeys are killed each year to supply the demand for turkey on Thanksgiving Day in the United States. Year-round, per capita consumption of turkey was 16.4 pounds in 2017. Most of the turkeys sold in supermarkets, 99.9%, are the Broad Breasted White variety. This variety, a cross between the White Holland and the Broad Breasted Bronze breeds, first became popular in the 1960s as breeders wanted to supply the most meat at the lowest price. Broad Breasted Whites were bred for high breast meat content. As a result, they cannot walk well, cannot fly and males cannot sire offspring naturally. Breeders must use artificial insemination.
The other 0.1% of turkeys sold are American heritage varieties. There are 10 varieties recognized by the American Poultry Association's turkey Standard of Perfection of 1874. They are Standard Bronze, Bourbon Red, Narragansett, Jersey Buff, Slate, Black Spanish, White Holland, Royal Palm, White Midget, and Beltsville Small White. These turkeys are "bred for fine flavor, beauty … and a good yield of meat from the food provided."1 These varieties have been bred over hundreds of years in the United States and Europe. They more closely resemble wild turkeys in that they can run, fly, and breed naturally.
Because of the popularity of Broad Breasted Whites, heritage varieties nearly became extinct in 1990. An effort to revive the breeds began in 1997. That year there were only about 1,300 breeding birds. In 2016, there were 14,500. Large commercial farms raise Broad Breasted Whites for sale to supermarkets. American heritage turkeys are mostly found on smaller farms that raise a limited number yearly. Heritage turkeys are therefore much more expensive than Broad Breasted Whites.
Today's market size shows the number of pounds of turkey produced in the United States in 2017.2 This was a 2.2% increase over 2016. Due to oversupply, with prices hitting a seven-year low, several companies planned to scale back production in 2018. The top 5 companies in terms of production were, in order: Butterball, Jennie-O Turkey Store, Cargill Protein, Farbest Foods, and Kraft Heinz Co.
1 Source: "Heritage Turkeys," Heritage Turkey Foundation available online here. The meat content is close to a 50/50 ratio of thigh meat and breast meat.
2 Source: WATT PoultryUSA, March 2018, page 54. The USDA reports production was 5.98 billion pounds (total farm production minus condemnations) in 2017. Full source citations below.
Geographic reference: United States
Year: 2017
Market size: 7.433 billion pounds
Sources: Austin Alonzo, "Top US Turkey Producers Growing Amid Challenging Markets," WATT PoultryUSA, March 2018, pages 54-57 available online here; "Heritage Turkeys," Heritage Turkey Foundation available online here; "U.S. Meats Supply and Use," World Agricultural Supply and Demand Estimates, United States Department of Agriculture, October 11, 2018 available online here; Adam Gabbatt, "Taste of Thanksgiving Past: Why Heritage Turkeys are Making a Comeback," The Guardian, November 21, 2017 available online here; Jennifer Calfas, "Here's How Many Turkeys Are Killed Each Year for Thanksgiving," Time, November 16, 2017 available online here; "Turkey Breed Facts: Broad Breasted White," Local Harvest, January 27, 2011 available online here; Virginia Van Zanten, "The 4 Best Places to Order Your Heritage Thanksgiving Turkey," Vogue, November 12, 2015 available online here.
Image source: PublicDomainPictures,"celebration-christmas-cuisine-315079," Pixabay, April 5, 2014 available online here.