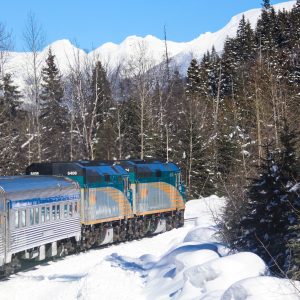 Steel Rails, chasing sunshine 'round the bend

Winding through the trees like a ribbon in the wind

I don't mind not knowing what lies down the track

'Cause I'm looking out ahead

To keep my mind from turning back

— Chorus from the song "Steel Rails" by Louisa Branscomb
Worldwide, passengers traveled a total of 3.7 trillion kilometers by train in 2016. That same year, more than 9.9 trillion tonne kilometers of freight were shipped. The vast majority of passenger kilometers traveled, 80%, were in Asia and Oceania1; the fewest were in America, which includes both the United States and Canada. Two regions were nearly evenly split on the percentage of tonne kilometers of freight shipped by rail: Asia and Oceania with 37% and America with 31%. The Russian Federation followed with 23%. A total of 1.1 million rail lines allow for the transport of passengers and freight worldwide, more than a third of which are in America, followed by Asia and Oceania (28%) and Europe (24%).2
Whether a train is transporting passengers or freight, all use batteries either as backup power, for engine starting, as storage systems to capture energy recovered from braking or to power the trains themselves. Today's market size shows the estimated sales of train batteries in 2018 and projected for 2025. The market is expected to grow at a compounded annual growth rate of 5.15% during this time period as more people around the world become dependent on rail transport.
Currently, lead-acid batteries are the predominate battery used in rolling stock, but as lithium-ion batteries become more economical and efficient and demand for maintenance-free batteries increases, they are expected to be the type of battery most used by the end of this time period. In the future, demand for environmentally-friendly bullet trains and autonomous trains with advanced features such as automated doors, infotainment systems, and passenger information systems will spur sales of train batteries as these types of trains require significantly more power.
1 Excludes Russia and Turkey
2 Includes Turkey
Geographic reference: World
Year: 2018 and 2025
Market size: $470.5 million and $703.2 million, respectively
Sources: "From a Market Size of USD 470.5 million in 2018, The Train Battery Market is Projected to Reach USD 703.2 Million by 2025, at a CAGR of 5.15%," Cison PR Newswire, October 18, 2018 available online here; "Rail Transport in the World," International Union of Railways, September 7, 2018 available online here; Fred Lambert, "Bombardier Unveils a New Battery Powered Train," Electrek, September 14, 2018 available online here; "Rail," available online here; and "Wayside Energy Storage Systems," available online here.
Image source: axiepix, "train-tracks-winter-snow-trees-613386," Pixabay, January 27, 2015 available online here.