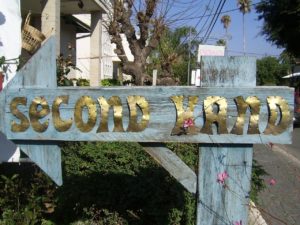 Several decades ago thrifting—shopping at used merchandise stores—was associated with poverty. More recently while some continue to shop at used merchandise stores to save money, many see thrifting as a lifestyle choice, a way to find inexpensive, unique pieces for their wardrobe or to find pieces to repurpose for do-it-yourself projects. The younger generation, especially, has embraced thrifting. Perhaps as a reflection of that, the 2012 Macklemore song "Thrift Shop" became a hit. The official music video on YouTube, as of May 2017, had more than 1 billion views and more than 5 million likes.
The total revenue of used merchandise stores in the United States is today's market size.
Geographic reference: United States
Year: 2017
Market size: $17 billion
Source: Princess Gabbara, "How Thrifting Became Chic," Lansing State Journal, May 7, 2017, pages 1D, 5D; Ryan Lewis, "Macklemore & Ryan Lewis – Thrift Shop Feat. Wanz (Official Video)," YouTube, August 29, 2012 available online here.
Original source: Dun & Bradstreet
Image source: PublicDomainPictures, "second-hand-sign-thrift-shop-20113," Pixabay, March 1, 2012 available online here.