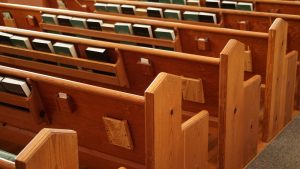 JCPenney, Sears, Macy's. Household names. Retailers that have been around for more than 100 years and in many cases have been anchor stores in shopping malls around the country, attracting shoppers to the mall itself and to the smaller retailers therein. In recent years, with the rise in popularity of online shopping, large department stores such as these have struggled to make a profit and have closed hundreds of stores leaving many malls with no anchor to draw shoppers. Smaller traditional mall retailers such as Claire's, Gap, Banana Republic, J. Crew, and Abercrombie & Fitch have not fared well either. Combined, these stores closed more than 400 locations in the first 8 months of 2018 alone. Overall more than 5,000 stores closed during this time period.
Faced with a dwindling supply of brick-and-mortar stores to occupy the empty retail spaces, mall property owners have looked elsewhere for tenants: theaters, restaurants, medical and wellness clinics, and gyms, businesses that will draw in foot traffic on a daily basis. Because churches are not open every day, they were not considered a preferred tenant. Until now.
Storefront churches have existed since the late-1800s in urban African-American neighborhoods. In addition to religious ministry, these churches offer educational and financial resources to the community. In the 21st century, storefront churches are being established in predominantly Latino and Asian neighborhoods as well as in poorer rural communities throughout the United States. There has also been an increase in storefront mosques and temples in recent years. Churches in malls and open-air shopping centers are a newer concept than storefront churches, but evangelization to the greater community by establishing a presence in their respective venues is a priority for both.
Today's market size shows the number of malls and open-air shopping centers that have at least one house of worship in them as of August 2017.1 Some malls have more than one, such as The Outlets in Loveland, Colorado. It houses three churches and a synagogue. In some cases, churches have been buying neglected mall properties to house their own congregations and, in some cases, others'. In 2015 Hope Church bought Grand Cities Mall in Grand Forks, North Dakota. The mall is now home to their congregation, as well as congregations from two other churches, a women's pregnancy center, a music school, an indoor playground, and a lightsaber combat academy.
1 Since then, at least one more mall has welcomed a church congregation. In mid-September 2018, Impact Church opened in Lansing Mall in Delta Township, Michigan.
Geographic reference: United States
Year: August 2017
Market size: At least 111
Sources: Esther Fung, "For Some Struggling Malls, Churches Offer Second Life," The Wall Street Journal, October 10, 2017 available online here; Eric Lacy, "Lansing Mall's Church Ready for First Service, " Lansing State Journal, September 10, 2018, page 1A; Esther Trattner, "Sick Stores: These Are The Chains That Are Dying Off Fastest," MoneyWise, August 24, 2018 available online here; "Let the Church Say Amen," Independent Lens, 2017 available online here; Kate Taylor, "Thousands of Americans Are Going to Church in Dead Malls," Business Insider, June 19, 2017 available online here.
Image source: miltritter, "church-pews-religion-christian-1398784," Pixabay, May 18, 2016 available online here.