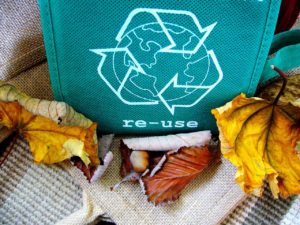 America Recycles Day was started in 1997 by the National Recycling Coalition. Since 2009, it has been a national initiative of Keep America Beautiful. Events are held around the country to educate people about recycling not only for its positive effects on our environment but also for its importance to our economy. According to Brenda Pulley, senior vice president, recycling, of Keep America Beautiful, "America Recycles Day helps to shine a light on our ongoing efforts to educate and inspire people to reduce, reuse and recycle, and when they buy, to buy products made from sustainable and recycled materials."
On November 13, 2015, President Barack Obama issued a Presidential Proclamation declaring November 15 America Recycles Day:
Every American has a role to play in preserving our planet for future generations. Being good stewards of our environment and protecting our natural resources are imperative tasks for ensuring our children and grandchildren live in a clean and sustainable world, and recycling is a pivotal way each of us can do our part. Today, we acknowledge the importance of reusing materials and reducing consumption, and we recognize that a recycling bin may often be a better alternative to a garbage can.

Each year, as much energy is saved recycling and composting as is consumed by 10 million American households. …

Recycling is one way all people can join in the effort of maintaining a sustainable society. Reusing goods and reducing consumption, in addition to donating old or unwanted materials, can have significant impacts on the earth, as well. …

Communities across America must continue promoting activities that encourage people to recycle and to conserve so we do not take for granted today the world our children will inherit tomorrow. We owe it to them to leave behind a stable, secure planet, and that begins with preserving the natural blessings of our Nation. On this day, let us work to fulfill our obligation to our next generation by safeguarding our resources and working with our friends, family, and neighbors to protect the world we share.
On this America Recycles Day we're recycling our blog post from July 21, 2017, titled Recyclable Materials:
Recycling is beneficial for the environment. It keeps materials out of landfills and helps to reduce the need for harvesting materials from the natural environment. When cities first started recycling programs the assumption was that the cost of the collection and sorting of the materials would be covered by the proceeds of the sale of those materials. In recent years this has not been the case. The value of some materials has dropped dramatically while the cost of recovering them has risen.
Reclaimed paper, a once valuable commodity that was in high demand by the newspaper industry, is one of these materials. As print newspaper circulation dropped dramatically, so did the need for reclaimed paper. Reclaimed plastics is another of these materials. As oil prices remain low, it's less expensive for manufacturers to make products from new plastic than it is for them to use reclaimed plastic. Since much of the reclaimed materials in the United States are sent overseas, recent legislative action by some countries limiting the amount of imported reclaimed materials has also negatively affected the market making it more difficult to sell such materials.
Today's market size is the value of a ton of mixed recyclable material for 2011, 2015 and an estimated value for 2017.
Geographic reference: United States
Year: 2011, 2015 and 2017
Market size: $180, $80, and just shy of $100 per ton of mixed recyclable material respectively.
Sources: Paul Singer, "Recycling Market in a Heap of Trouble," USA Today for the Lansing State Journal, April 21, 2017, page B1; Obama, Barack, "Presidential Proclamation — America Recycles Day, 2015," The White House, Office of the Press Secretary, November 13, 2015 available online here; Pulley, Brenda, "America Recycles Day Marks 20th Anniversary, Focuses Nation's Attention on Recycling Every Day," Keep America Beautiful Press Release, November 2, 2017 available online here; "America Recycles Day," National Day Calendar available online here.
Image source: 9355, "recycle-reuse-recycling-recyclable-57136," Pixabay, September 20, 2012 available online here.