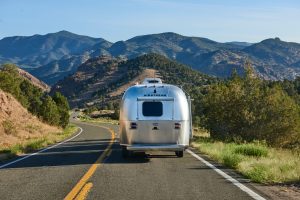 With Spring right around the corner and summer not far behind, have you been thinking about taking a vacation? Do your daydreams of a relaxing getaway include camping? If so, you are not alone. More than 77 million households in the United States include someone who enjoys this activity.
Most campers use tents but nearly one-quarter prefer the safety and comfort of a recreational vehicle, or RV. While a large percentage either borrow or rent their motorhome or towable camper, 56% own theirs. Just a few years ago, in 2014, a majority of people who camped using RVs were baby boomers or older. By 2017, 70% of RV campers were Millenials and Generation Xers. RV manufacturers are taking notice. The recreational vehicles of today are not the rustic accommodations of yesteryear. Newer models are equipped with solar panels, USB ports, entertainment systems, and wi-fi signal boosters.
Today's market size shows the total wholesale shipments of RVs in the United States in 1998, 2008, and 2018. Leading manufacturers include Thor Industries, Forest River, and Winnebago Industries. Ford Motor Co. makes the chassis, engines, and transmissions for most of the motorhomes in the United States. By state, the highest percentage of recreational vehicles were shipped to Texas, followed by California and Florida. Ohio and Michigan tied for fourth.
Shipments for 2018 were down from a high of 504,600 in 2017. They are forecast to drop farther in 2019. According to Frank Hugelmeyer, President of the RV Industry Association, "slowing sales were inevitable due in part to the fact that so many Americans have bought RVs over the past decade." Another factor may be RV prices. They are expected to climb due to increases in the cost of raw materials and components, such as microwaves, stoves, and lighting as a result of the tariffs imposed on goods from China and Canada. While 83% of recreational vehicles are manufactured in Indiana, many of the components are imported from other countries.
Geographic reference:
United States
Year:
1998, 2008 and 2018
Market size:
292,700, 237,000 and 483,700, respectively
Sources:
Trevor Hughes, "Youth Movement Is Driving RVs,"
USA Today
for the
Lansing State Journal
, January 28, 2019, pages 1B and 2B; "Addition of 6 Million New North American Campers Since 2014 Showcases Continued Popularity of Camping," The National RV Dealers Association News Release, April 11, 2018 available online
here
;
The 2018 North American Camping Report
, Kampgrounds of America, Inc. available online
here
; RV Industry Association Staff, "RV Industry Association's 2017 Profile Now Available," RV Industry Association, June 6, 2018 available online
here
; "Historical RV Data," RV Industry Association available online
here
; Dale Buss, "RV Sales Boom Is Fueled By Millenials as They Overturn Stereotypes and Enjoy The Itinerant Life,"
Forbes
, December 29, 2017 available online
here
; Peter Valdes-Dapena, "RVs Are Back and Bigger Than Ever,"
CNN Business
July 12, 2017 available online
here
.
Image source:
Airstream Inc., "Airstream Travel Trailer in Nature,"
Unsplash
, October 2, 2018 available online
here
. Use of image does not constitute endorsement.