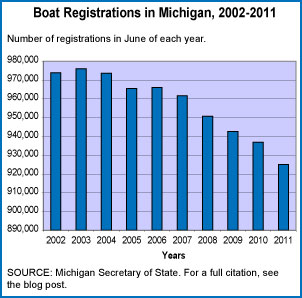 The market size reflects the amount spent on new boats, boating accessories, engines, trailers, and services in Michigan. Despite the fact that the number of boat registrations dropped from 2010, total spending on boats shows a 10.6% increase from a year ago. Nationwide, in 2010, the number of boaters hit a record high of 75 million, or 32.4% of adults. According to the National Marine Manufacturers Association, that's the highest percentage since 1999.
Geographic reference: Michigan
Year: 2011
Market size: $351 million
Source: Barbara Wieland, "Boating Industry Rides Recovery Wave," Lansing State Journal, June 19, 2011, page 1E
Original source: National Marine Manufacturers Association.