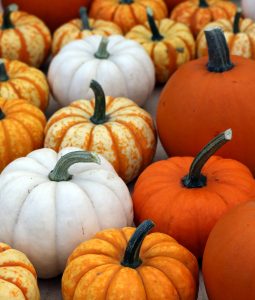 Pumpkins. The quintessential autumn vegetable. Carved into jack-o-lanterns for Halloween. Baked into pies for Thanksgiving and Christmas. Used as a flavoring in everything from coffee and creamers to ice cream, beer, and rum. In the 52 weeks ended August 25, 2018, pet parents spent more than $109 million for pumpkin-flavored dog food, a 124% jump from the previous 52-week period. For several years now pumpkin has been the most popular Halloween costume for pets.
Today's market size shows the total production value of pumpkins in the United States in 2017. That year, growers harvested 69,340 acres, down from 71,400 acres in 2016, but well above the 45,900 acres a decade ago. The production value of pumpkins for the fresh market was $172.1 million in 2017, far above the $13.6 million for pumpkins harvested for processing. In acres harvested, the top 5 states were Illinois, Ohio, Indiana, California, and New York. Nearly 80% of Illinois' pumpkin harvest is grown for processing.
In recent years the demand for specialty and heirloom pumpkin varieties has grown. Some popular varieties include Big Mac, Blue, Cotton Candy, Valenciano, Festival, Cinderella and Fairytale. The Cotton Candy and Valenciano varieties have a white hue. The Fairytale variety turns a shade of mahogany when mature. The Cinderella, so named because of its resemblance to Cinderella's transformed coach, is a French heirloom variety that was cultivated by the Pilgrims.
Geographic reference: United States
Year: 2017
Market size: $185.8 million
Sources: "Quick Stats," United States Department of Agriculture, National Agricultural Statistics Service available online here; Ana Serafin Smith, "Halloween Spending to Reach $9 Billion," National Retail Federation Press Release, September 20, 2018 available online here; "Pumpkin Spice Sales Growth Makes a Hot Return in Late-August" available online here; "Pumpkins: Background & Statistics," United States Department of Agriculture, Economic Research Service, September 13, 2018 available online here; "Historical Highlights and Related Releases," National Retail Federation available online here; Tess Koman, "55 Fall-Flavored Things You Can Eat Right Now," Delish, September 12, 2018 available online here; Lizzie Fuhr, "8 Funky Pumpkin Varieties for a Festive Fall," PopSugar, October 5, 2012 available online here.
Image source: Renee_Olmsted_Photography, "pumpkins-halloween-stems-autumn-956428," Pixabay, September 25, 2015 available online here.