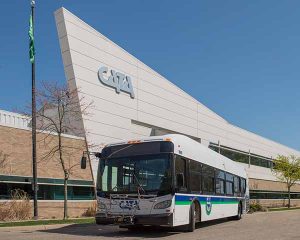 The Capital Area Transportation Authority (CATA) is the largest public transit provider in the tri-county area around Lansing, Michigan. The tri-county area consists of Ingham, Clinton, and Eaton counties. CATA has been operating public transportation in the mid-Michigan area since 1972 and has been twice named the best transit system of its size in North America by the American Public Transportation Association.
Ridership grew steadily during the 1970s, before leveling off during the 1980s and most of the 1990s. During the 1980s and 1990s, the number of rides fluctuated around 3-4 million annually. In 1999, CATA took over the Michigan State University bus service. Since then ridership has increased nearly 3-fold. In contrast, the population of the tri-county area grew by 22.6% from 1970 to 2010.
In 2013, CATA set a fourth consecutive yearly record for number of rides. By 2014, however, ridership was down overall despite seeing increased ridership on its Michigan State University routes and increased requests for its paratransit services. In the fourth quarter of 2014, gasoline prices fell which could account for the decreased ridership. Bus ridership both nationally and locally continued to decline in 2017. Nationally bus ridership dropped by 4.3 percent in 2017. CATA saw a ridership decline of 6.0 percent overall that same year.
According to the American Public Transportation Association, several factors contributed to the multi-year decline in bus ridership overall. Gas prices remained low and the ability to obtain car loans, including sub-prime car loans for those with poor credit, became easier. More employees are working from home. In 2016, 66% of employers allowed some of their employees to work from home occasionally; 40% allowed some employees to work regularly from home, a drastic change from a decade ago. The use of transportation network companies such as Uber and Lyft along with bike-sharing services and biking, in general, have become more popular. Customers who employ these services may find them more convenient to use, allowing them to get to their destination sooner than if they would take public transportation.
In response to the increased popularity of bike-sharing across the country, CATA partnered with Michigan State University and the cities of Lansing, East Lansing and Meridian Township to study the feasibility of bike-sharing programs in the region in 2018. Bike-sharing is one way of meeting a commuter's need for transportation to and from a bus stop or transit facility in order to more easily access the public transportation system.
Today's market size represents the number of rides annually on CATA vehicles in 1972 and 2017.
Geographic reference: Lansing, Michigan area
Year: 1972 and 2017
Market size: Less than 1 million rides and 10.2 million rides respectively
Sources: Pam Latka, "Fiscal 2017 Ridership Closes at 10.2 Million," CATA Drives: 2018 Community Report, September 2018, page 5; Understanding Recent Ridership Changes, American Public Transportation Association, April 2018 available online here; "National Trend Leaves Its Mark on Ridership," CATA 2016 Community Report, June 2016, page 3; "Ridership Trends Vary by Service Type," CATA 2015 Community Report: Where Public Transportation Goes Community Grows, June 2015, page 3; "Passenger Trips Reflect Stable Demand," CATA 2014 Community Report: Moving You Forward With Pride, June 2014, page 3; "Growth in Ridership Remains Strong," CATA 2013 Community Report: Moving You Toward Your Dreams, June 2013, page 4; "Riding High with Record Ridership," CATA 2012 Community Report 40th Anniversary Edition: Greater Lansing on the Move, August 2012; "CATA Demand Grows with Community Need," CATA 2011 Community Report: Greater Lansing on the Move, August 2011; Tri-County Regional Planning Commission, "Tri-County Regional Growth: Choices for Our Future," Draft Report, August 2002 available online here; "Ingham County, Michigan" available online here; "Clinton County, Michigan" available online here; and "Eaton County, Michigan" available online here.
Image source: "CATA Administrative Offices," available online here. No copyright infringement intended.