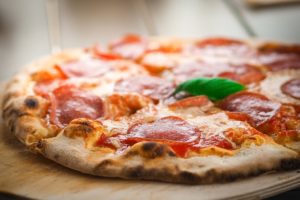 According to Restaurant.com, Halloween is one of the top 5 busiest days for pizza sales at pizzerias in the United States. The convenience of picking up a ready-made pizza for dinner, or having one delivered, leaves families more free time to prepare for trick-or-treating. In addition, pizza is an often-served and welcome meal at Halloween parties across the country. Forty-one percent of consumers polled for Technomic's 2016 Pizza Consumer Report said they eat pizza once a week. Two years ago 26% did.
Today's market size shows total pizza sales at pizzerias in the United States for the year ending September 30, 2016. However, pizza is not only consumed in the United States. Worldwide, pizza sales totaled $128 billion in 2016. The top 3 regions of the world in terms of sales were Western Europe ($47 billion), North America ($45 billion), and Latin America ($13 billion) according to Euromonitor International. Latin America is expected to see a 45% growth in pizza sales through 2020, followed by China (31%) and the Asia-Pacific region (26%).
Geographic reference: United States
Year: Year ending September 30, 2016
Market size: $44 billion
Source: Hynum, Rick, "Pizza Power Report 2017 – A State of the Industry Report," PMQ, December 2016 available online here; Hobson, Alex, "Halloween is One of the Top Selling Days for Pizzerias," ABC Action News, WFTS Tampa Bay, October 31, 2013, updated November 1, 2013 available online here.
Original sources: Euromonitor International, CHD Expert, Technomic
Image source: Riedelmeier, "Pizza-stone-oven-pizza-stone-oven-1344720," Pixabay, March 28, 2016 available online here.