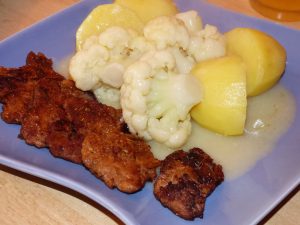 In the 2000s, documentaries attempted to expose the animal welfare, environmental, and economic impacts related to large-scale industrial farming. More recently, studies have been published linking the decreased consumption of meat and the increased consumption of fruits, vegetables, and whole grains to lower death rates, reduced production of greenhouse gases, and healthcare-related savings. According to a study published in PNAS, adopting global dietary guidelines such as these could reduce deaths by 5.1 million by 2050, reduce greenhouse gas emissions by nearly one-third, and save $700-1,000 billion per year in healthcare costs. The Global Burden Disease study, led by the Institute for Health Metrics and Evaluation, found that six of the top 10 risk factors for early death worldwide were linked to a poor diet. Researchers concluded that a diet high in red meat and sugary drinks and low in fruit, vegetables, and whole grains contributed to 30.8 million deaths, or 21% of the global population in 2013, up from 25.1 million in 1990.
According to GlobalData, 70% of the world's population is either reducing their consumption of meat or eschewing meat altogether. In the United States alone, the percentage of people who describe themselves as vegan jumped six-fold from 2014 to 2017. In Great Britain, the number of people identifying as vegan jumped 350% over the past decade. In Portugal, the number of vegetarians increased 400% over the same time period. Faced with increased obesity, Type-2 diabetes, and heart disease in their populations, countries such as Canada and China have proposed or implemented new nutrition guidelines calling for their citizens to eat a plant-rich diet. In the past 30 years, China's meat consumption has quadrupled; however, China's new food guidelines encourage its population to halve their meat consumption by 2030.
In 2017, 26% of consumers in the United States reported reducing their meat consumption in the past 12 months and 36% reported buying plant-based meat substitutes. According to a California Walnut Board study, 83% of Americans would be interested in making meatless recipes if the taste and texture would be similar to meat-centric dishes. According to Chuck Jolley, president of the Meat Industry Hall of Fame, the popularity of plant-based meat substitutes is one of the six biggest challenges for animal agriculture in 2018 as more of these products are sold in mainstream grocery stores and restaurants. Whether people are concerned about animal welfare, environmental issues or their health, the percentage of people giving up meat completely is quite small. Of the countries mentioned above, in the United States, 6% of the population identifies as vegan; in Great Britain, 3.25%;1 and in Portugal, 0.6%. Of course, not all consumers of meat substitutes are vegetarians or vegans. According to Beyond Meat's executive chairman, Seth Goldman, 70% of consumers who purchase their Beyond Burger2 product are flexitarians, meat eaters who are reducing their meat consumption.
Today's market size shows the global sales of meat substitutes in 2017 and projected for 2018, 2023 and 2025. Real meat will continue to have a place at the table in most households around the world. Global sales of meat substitutes were a small fraction of the $90 billion real meat market in 2017.
1 Figure is for 2016.
2 Mention of the company and its product does not constitute an endorsement.
Geographic reference: World
Year: 2017, 2018, 2023 and 2025
Market size: $4.2 billion, $4.6 billion, $6.4 billion and $7.5 billion respectively
Sources: Zlati Meyer, "Missouri Is First State to Regulate the Word 'Meat'," USA Today for the Lansing State Journal, August 29, 2918, page 3B; "Plant-Based Diets Could Save Millions of Lives and Dramatically Cut Greenhouse Gas Emissions," March 21, 2016 available online here; Madlen Davies, "Poor Diet Is the Biggest Cause of Early Death Across the World – With Red Meat and Sugary Drinks Responsible for One in Five Deaths," Daily Mail, October 6, 2016 available online here; Becky Schilling, "The Future of Plant-Based Foods," Supermarket News, September 21, 2017 available online here; Michael Pellman Rowland, "Millennials Are Driving The Worldwide Shift Away From Meat," Forbes, March 23, 2018 available online here; "Why the Global Rise in Vegan and Plant-Based Eating Isn't a Fad (600% Increase in U.S. Vegans + Other Astounding Stats)," Food Revolution Network, January 18, 2018 available online here; Chris Bennett, "Flesh and Blood: What's the Future of Fake Meat?" Drovers, August 13, 2018 available online here; Elaine Watson, "An Estimated 70% of Beyond Burger Fans Are Meat Eaters, Not Vegans/Vegetarians, says Beyond Meat," FoodNavigator-USA.com, January 12, 2018 available online here; Chuck Jolley, "Six Greatest Ag Challenges for 2018," Feedstuffs, December 6, 2017 available online here; "Vegan Society Poll," Ipsos MORI, May 16, 2016 available online here; "Number of Vegetarians in Portugal Rises by 400 Percent in 10 Years," The Portugal News Online, December 10, 2017 available online here.
Original source: Figures for 2017 and 2025 are from Allied Market Research.
Image source: Kalhh, "cauliflower-potato-soy-medalions-943005," Pixabay, September 17, 2015 available online here.