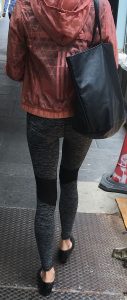 What's old is new again. This can be said for leggings, the current and sometimes controversial fashion trend. Leggings, in some form, have been around for centuries. Originally leggings referred to leg coverings of various sorts, not necessarily pants. In the past, some Native Americans wore leggings that looked like high-top moccasins or boots. They were made out of deer, elk, and other game animals. This clothing protected the legs and ankles from plants and animals. It also served to cover women's ankles for proper etiquette at the time.
In Europe and Colonial America, leggings referred to something resembling thick stockings. In the 18th century, in order to keep their legs warm men wore leggings that covered the leg from a few inches above the knee down to the top of the foot. These were made of wool, linen or leather. Military leggings of various forms were worn by soldiers from the late 19th century until the first part of World War II in order to prevent dirt, sand, and mud from getting into soldiers' shoes. They also provided ankle support. In 1943 field boots replaced leggings in the U.S. Army. However, other branches of the military continued to use military leggings until the 1960s.
During World War II, due to the high demand for rubber, chemical companies were trying to invent a rubber alternative. In the process, DuPont chemist Joseph Shivers invented Lycra, also known as spandex, in 1959. In the 1960s more women were wearing pants and casual dress was trending. Fashion designers started using this new fabric in their pant designs. Leggings became "tight-fitting trousers made of a stretch fabric, worn especially by women and girls," according to the 1970s version of the Oxford Dictionaries. Modern leggings are made of cotton, polyester, spandex, nylon, or leather.
After waning in popularity, leggings became popular in the 1980s again, this time as part of the gym-wear-as-fashion trend influenced by Jane Fonda and the aerobics craze. According to anthropologist Kaori O'Connor, leggings "became closely associated with workout culture and youth."1 In the 2000s, leggings, or yoga pants, became popular with all ages of women and not just to wear to the yoga studio. Leggings are now worn at the gym, as casual wear around town, and in dressier situations, including at the office. In 2007 at the Marni Men's show during Fall 2007 Fashion Week leggings designed for men were introduced, but this never caught on with the wider public.
Today's market size shows the expected revenue earned from the worldwide sale of leggings in 2018 and projected for 2023. In 2017, the United States imported more women's elastic knit pants than women's blue jeans according to the U.S. Census Bureau. Since 2010 the sale of women's blue jeans has been declining by 3.9% annually in the United States. Sales of elastic knit pants grew 25.7% per year on average during this same time period. In response to customer preferences, some blue jeans companies are adding stretch and moisture-wicking properties to their denim. Who manufactures leggings? Traditional athletic wear companies, such as Nike, Under Armour, and Adidas; high-fashion labels such as Tommy Hilfiger and Calvin Klein; and even traditional lingerie brands such as Victoria's Secret, just to name a few.
1 Olivia B. Waxman and Melissa Chan, "How Leggings Became the Most Controversial Pants," Time, March 27, 2017
Geographic reference: World
Year: 2018 and 2023
Market size: $23.17 billion and $30.87 billion
Sources: Stephan Marwa, "Global Leggings Market Size to Worth USD 30.87 Billion by 2023," Healthcare Journal Press Release, April 9, 2018 available online here; Olivia B. Waxman and Melissa Chan, "How Leggings Became the Most Controversial Pants," Time, March 27, 2017 available online here; "Leggings," Wikipedia, April 17, 2018 available online here; David Yanofsky, "The US is Now Buying More Stretchy Pants Than Blue Jeans," Quartz, March 1, 2018 available online here; and Audie Cornish, "Denim Companies Stretch to Compete With Leggings," All Things Considered on NPR, April 9, 2018 available online here.
Image source: By Nicole.elocin [CC BY-SA 4.0], from Wikimedia Commons