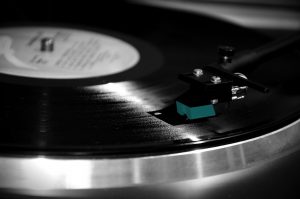 What do Adele, Radiohead, and Tobacco have in common? They all have signed with independent record labels sometime in their careers.
According to the Association of Independent Music, an independent record label is one in which 50% or less of the company is owned by a major record company, its affiliates, or its subsidiaries. The three major record companies are Universal Music Group, Sony Music Group, and Warner Music Group. Even if an independent record label is not owned by one of the majors, in some cases it may not be totally independent of them. Some independents partner with major record labels to boost promising artists and distribute the music they produce. In 2017, 22.4%1 of the music produced by independent record labels were distributed by major record labels.
In the United States, independents' share of music sales, licensing and other revenues totaled 32.2% in 2017. Independent publishers' market share was higher, 41.2%. Globally, independents' share of the music recording industry reached 39.9%, with some countries' shares outpacing major labels. Independent record labels in South Korea garnered 83% of the market in 2017 and in Japan, 63%.
The industry is fragmented. There are more than 500 independent record labels in the United States alone, representing every genre of music. Well-known artists, as well as lesser-known musicians, have signed with independent labels throughout the years. Many artists generally get their start at independent labels and a majority stay. Globally, 77% of artists renewed with their label in 2017. In the United States, 84% did.
Today's market size shows the total independent record label revenues for 2017 worldwide. This represented 11.3% year-over-year growth, higher than for the major record labels (+9.7%) and the industry overall (+10.2%). Fans tend to be loyal to independent artists and are more likely to buy album LPs, CDs, and cassettes, which generate higher revenue than streaming. Independent labels comprised slightly more than 39% of physical album sales. Independents' share of streaming was 28.3%.
Wait, cassettes? Yes, cassettes. "People still want to hold something, look at images, see it move," said Stephen Bishop, founder of cassette label Opal Tapes. In recent years, cassettes have made a comeback. Although still a minuscule amount of overall revenue, sales doubled from 2016 to 20172 in the United Kingdom alone, with a 90% increase in the first half of 2018. According to Nielsen Music, in the United States, cassette album sales increased from 178,000 units in 2017 to 219,000 in 2018.3 Releasing an album on cassette gives an emerging artist a way to release a limited-edition album with a creative presentation for less cost than releasing it on vinyl. But, it's not just lesser-known artists doing this. The top-selling album on cassette in the first half of 2018 in the U.K. was Kylie Minogue's Golden.
1 Based on revenue.
2 From 10,912 units sold in 2016 to 22,011 in 2017.
3 In 2018, this was less than two-tenths of a percent of overall album sales.
Geographic reference:
World
Year:
2017
Market size:
$6.9 billion
Sources:
Wintel Worldwide Independent Market Report 2018
, December 2018 available online
here
; Paul Resnikoff, "Collectively, Indie Labels Are Now Bigger Than Any Major Label,"
Digital Music News
, May 20, 2018 available online
here
; "Labels and DIY Artists," Association of Independent Music available online
here
; "Who Is A2IM?" available online
here
; "Forget The Vinyl Revival: The Cassette Tape Revival is in Full Flow, Honest,"
Louder
, November 27, 2018 available online
here
; Eoin Murray, "Why the Cassette Revival Is Essential for Electronic Music,"
DJ
, September 21, 2018 available online
here
; Rob Copsey, "The Official Top 20 Best-Selling Cassettes of 2018 So Far,"
Official Charts
, July 25, 2018 available online
here
; Joyce, Joe Price, Alex Gardner, "33 Independent Record Labels You Should Know,"
Complex
, July 26, 2017 available online
here
; Keith Caulfield, "U.S. Cassette Album Sales Grew 23% in 2018, Aided by Britney Spears, 'Guardians,' Twenty One Pilots & More,"
Billboard
, January 17, 2019 available online
here
.
Image source:
AliceKeyStudio, "turntable-vinyl-sound-music-1208177,"
Pixabay
, February 19, 2016 available online
here
.