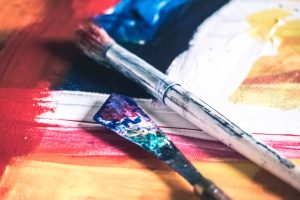 The rich are getting richer, and this bodes well for the art market worldwide, a network of artists, gallerists, auction houses, fairs, museums, art critics, and collectors. Growth in global wealth, robust consumer confidence and increased supply were three reasons behind the recent 12% growth in global art sales. Global wealth has increased 50% since 2010, much of that in Asia. In 2010, Asia was home to 24% of the world's billionaires. In 2017, 41%. Twenty-six percent live in China, a country that accounted for a third of global art auction purchases and 21% of all art sales worldwide in 2017, second behind the United States with 42%.
Although art sales rebounded in 2017, gallery closings outpaced gallery openings that same year. Several factors contributed to galleries shutting their doors including high rent and art fair fees, changing consumer preferences, and larger galleries recruiting talent away from smaller galleries. Some more-established art galleries whose names and reputations are synonymous with their owners also face an uncertain future in the coming years as owners retire or die and have no one to take over their businesses.
Today's market size shows total global art market sales in 2017. The auction sector saw the highest growth due to several high-end works being sold in 2017. Post-war and contemporary art continued to lead the market with a 46% share, followed by modern art with 27%. Dealer sales accounted for more than half of sales by value in 2017.
Geographic reference: World
Year: 2017
Market size: $63.7 billion
Sources: Nate Freeman, "The Art Market Grew to $63.7 Billion in 2017, and Other Key Takeaways from Art Basel Report," Artsy, March 13, 2018 available online here; Stephanie Gommel, "Art Dictionary: The Art Market," Hatje Cantz, January 13, 2014 available online here.
Image source: Image by Steve Johnson, Stocksnap.io, accessed October 2, 2018 available online here.