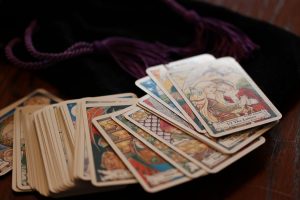 What will the future hold? A question many of us ask ourselves, especially at this time of the year. While most people just ponder this question idly, many in South Korea seek out more definitive answers, they believe, from fortune-tellers who offer services such as face-, palm-, and tarot card reading and saju, an ancient practice of analyzing the cosmic energy at the hour, day, month, and year of a person's birth from Chinese astrological records and texts. Saju and face-reading are recognized academic pursuits in South Korea.
According to Paik Woon-san, head of the Association of Korean Prophets, there are more than 300,000 fortune-tellers in South Korea and 150,000 shamans, many of whom offer fortune-telling services. Two-thirds of people surveyed by Trend Monitor, a marketing firm, said that they visit a fortune teller at least once a year. Most visit between December and February to learn what is foretold for their lives in the new year. The practice of going to soothsayers is passed down within families. It is "one possible way by which to make sense of the world," says Andrew Eungi Kim, a professor at Korea University.
Today's market size shows the estimated revenue earned in the fortune-telling industry in South Korea according to the Korea Economic Daily, a newspaper.1 Whether people seek out fortune-tellers for entertainment or for decision-making guidance, some who may have sought face-to-face interactions at brick-and-mortar businesses are now downloading mobile apps. Handasoft's most popular fortune-telling app, Jeomsin, has been downloaded more than 3 million times.
1 The source does not provide a date. It states, "[T]he otherworldly in South Korea will soon be a 4trn won ($3.7bn) business". The editors of this blog interpret "soon" to mean in 2018 or 2019. The source article was written in February 2018.
Geographic reference: South Korea
Year: 20181
Market size: $3.7 billion (4 trillion won)
Source: "In South Korea Fortune-Telling Will Soon Be a $3.7bn Business," The Economist, February 24, 2018 available online here.
Image source: MiraCosic, "tarot-cards-magic-fortune-telling-991041," Pixabay, October 16, 2015 available online here.