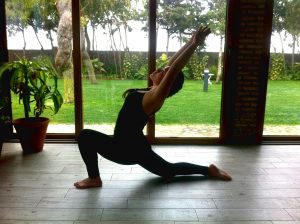 Fitness studios are businesses that specialize in fitness activities such as personal training, Pilates, yoga, indoor cycling, small group training and martial arts. Dance studios are also considered fitness studios. In 2015, 22.5 million people in the United States were members or regular clients of fitness studios. Prior to 2010, many health-conscious consumers would visit large commercial health clubs, public recreation facilities or the YMCA to exercise. Since then there has been a shift toward wanting more specialized exercise programs. In addition, connecting with others who share their fitness interests has become a priority for many people. Fitness studios are smaller than traditional health clubs, offer personalized service and small class sizes. More than 88% are independently owned. In 2015 most were personal training studios (offering small group training in addition to personal training) and mind/body studios (offering yoga, Pilates, and barre classes). While people want specialization in their fitness routine, they are not limiting themselves to just one type. A majority of fitness studio members—64% to 91%, depending on studio discipline—belonged to more than one type of fitness studio in 2014.
Today's market size shows the total revenue earned by fitness studios in the United States in 2015. There were more than 100,000 fitness studios operating in the United States that year. In 2014 most were located in the Pacific region, followed by the South East and Mid-Atlantic regions. The Pacific, Mountain, and Mid-Atlantic regions all had a higher percentage of fitness studios than health clubs. According to the Association of Fitness Studios 2018 Trend Report, some large health clubs are creating studio-in-the-club spaces in order to capitalize on members' trending preferences for a fitness studio experience.
Geographic reference: United States
Year: 2015
Market size: $22 billion
Sources: "Fitness Studio Fact Sheet," Association of Fitness Studios available online here; AFS and ClubIntel, 2015 Fitness Studio Operating & Financial Benchmarking Report, Association of Fitness Studios, 2015 available online here; Association of Fitness Studios Trend Report: Top 12 Fitness Studio Trends for 2018 available online here.
Image source: GabrielaLitschi, "yoga-practice-woman-health-876744," Pixabay, August 7, 2015 available online here.