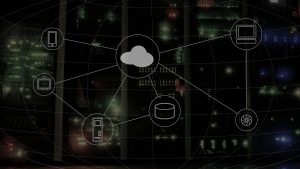 A firewall prevents unauthorized access to a network based on a defined set of security rules. For more than two decades firewalls have been used to provide network security. Firewalls can be hardware-based or software-based or both.
Firewall as a Service (FWaaS) is a cloud-based service in which an organization's firewall is centralized to monitor traffic coming from multiple locations within the organization, from mobile users and the internet. Without using FWaaS, employees in a company's IT department may spend time maintaining multiple firewalls in multiple locations. Besides responding to cyber threats, this includes updating hardware and software to thwart new threats or to comply with new government regulations and verifying that security rules are consistent throughout the network. FWaaS creates a centralized point of access for network traffic with the ability to automatically scale the service depending upon need, adding more network locations or adding bandwidth capabilities. The provider of these services is responsible for maintaining the firewall infrastructure. FWaaS providers have dedicated security teams that monitor systems, provide necessary updates and respond to network security threats.
Today's market size shows the amount spent globally on FWaaS in 2017 and 2022. Data for 2022 are projected. The market is expected to grow at a compound annual growth rate of 24.9% from 2017 to 2022. An increasing need for more sophisticated network security, the ability to rapidly upgrade firewall protocols, and reduced operating costs are some reasons the demand for FWaaS is expected to increase over the next 5 years. Major vendors of FWaaS are Barracuda Networks, Cato Networks, Check Point Software Technologies, Cisco Systems, Forcepoint, Fortinet, Juniper Networks, Palo Alto Networks, WatchGuard, and Zscaler.
Geographic reference: World
Year: 2017 and 2022
Market size: $0.56 billion and $1.70 billion respectively
Sources: "Firewall as a Service Market Worth 1.70 Billion USD by 2022," Cision PR Newswire, March 2, 2018 available online here; Dave Greenfield, "What is Firewall as a Service and Why Do You Need It?" Cato Networks, April 16, 2018 available online here; Alan Zeichick, "Understanding Cloud-Based Firewalls," enterprise.nxt, February 20, 2017 available online here; "What is a Firewall?" Cisco, available online here.
Original source: MarketsandMarkets
Image source: wynpnt, "cloud-computing-network-internet-2001090," Pixabay, January 23, 2017 available online here.