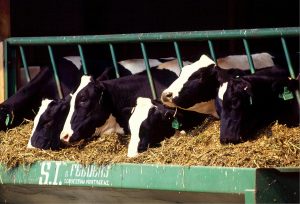 The five types of feed additives are nutritional, sensory, zootechnical, technological, and antibiotic. Nutritional additives, such as vitamins, minerals, and amino acids, are food supplements that provide added nutrients to improve the animals' health. Sensory additives include flavored supplements used to increase appetite. Zootechnical additives, such as enzymes and probiotics, are used to help with digestion so that the animals can absorb nutrients from their food better. Technological additives, such as mold inhibitors and anti-caking agents, are preservatives that extend the shelf life of the feed.
Antibiotic supplements are used to fight infections and diseases; however, these supplements have been controversial because they have also been used for decades by farmers to promote the growth of livestock. In response to the growing problem of antibiotic-resistant bacteria due to overuse of antibiotics, the European Union banned the use of antibiotics as growth promoters for farm animals in 2006. A similar ban in the United States took effect on January 1, 2017. After the ban in the U.S., the use of antibiotics in animal feed dropped from 14.03 million kilograms in 2016 to 10.93 million kilograms in 2017. In recent years, retailers have also been putting pressure on suppliers to reduce antibiotic use in response to customer preferences for antibiotic-free meat.
Today's market size shows the amount spent on feed additives in 2018 and projected for 2023 worldwide. Demand for preservatives is expected to grow the fastest over this time period. Consumers' preferences for lower-fat meat such as poultry is expected to increase demand for poultry feed additives. Several companies produce feed additives including Cargill, DowDuPont, ADM, Evonik, and BASF.
Geographic reference:
World
Year:
2018 and 2023
Market size:
$33.0 billion and $44.3 billion, respectively
Sources:
"The Global Feed Additives Market Size is Projected to Grow From USD 33.0 Billion in 2018 to USD 44.3 Billion by 2023, at a CAGR of 6.1%,"
Cision PR Newswire
, February 25, 2019 available online
here
; "Livestock Farmers Can Improve Quality With Feed Additives,"
Bentoli Blog
available online
here
; "Assessment of Safety and Efficacy for the Targeted Species: Zootechnical Feed Additives," European Food Safety Authority available online
here
; Dr. Elinor McCartney, "Botanicals: From Sensory to Zootechnical Additives,"
All About Feed
, July 16, 2014 updated January 14, 2016 available online
here
; "Antimicrobial Resistance Shows No Signs of Slowing Down," European Food Safety Authority Press Release, February 26, 2019 available online
here
;
2017 Summary Report on Antimicrobials Sold or Distributed for Use in Food-Producing Animals
, U.S. Food and Drug Administration Center for Veterinary Medicine, December 2018 available online
here
; B.M. Marshall and S.B. Levy, "Food Animals and Antimicrobials: Impacts on Human Health," U.S. National Library of Medicine, National Institutes of Health, October 24, 2011 available online
here
; "Animal Feed Additives," Food Standards Agency, January 15, 2018 available online
here
.
Image source:
skeeze, "cows-cattle-dairy-holstein-farm-526771,"
Pixabay
, November 12, 2014 available online
here
. Use of image does not constitute endorsement.