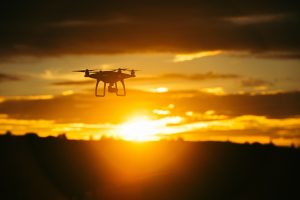 Unmanned aerial vehicles (UAVs) have been in development since World War I for use in military operations. During World War I, the aim was to design an automatically guided, unmanned biplane that would act as a torpedo. The Kettering Bug, built by the U.S. Army, first flew in 1918 but was never used in the war. In the 1930s, the Navy continued experimenting with radio-controlled aircraft. The Radioplane OQ-2 became the first mass-produced UAV in the U.S. Fifteen thousand were manufactured for the Army during World War II.
Modern unmanned aerial vehicles, or drones, began being developed by the Air Force in the 1960s and 1970s for surveillance flights. By the late 1990s, engineers were working on arming them with missiles. After September 11, 2001, the CIA began flying armed drones over Afghanistan. The military continues to use ever more sophisticated drones of various sizes in its operations.
Drone kits for hobbyists were sold in the late 1990s and early 2000s. The first commercially successful consumer drone was released in 2010. The Parrot AR Drone was the first ready-to-fly drone controlled by Wi-Fi using a smartphone. It sold more than 500,000 units. Its successor, the AR Drone 2.0, had an improved piloting system, which made it easier for newcomers to use. According to Goldman Sachs, consumer drones are expected to generate $3.3 billion in revenue by 2020, up from $700 million in 2014.
Recognizing the potential of drones beyond military or consumer use, the Federal Aviation Administration issued permits for commercial drones in 2006. These permits removed some restrictions placed on consumer drones. At first, few companies requested commercial drone permits. Today's market size shows the number of commercial, or enterprise, drones shipped in 2017 and 2023 in the United States. The shipment figure for 2023 is estimated.
Drones are used by civilian government entities, such as police and fire departments, and various industries throughout the United States. The construction industry spent the most on drones in 2016, $11.2 billion. The agriculture industry followed, spending $5.9 billion. Some uses for drones in the construction industry include mapping, surveying land, inspecting buildings, and monitoring on-site activities. Agriculture uses include monitoring crop health, assessing drought impacts, and analyzing the soil. According to Technavio, Aeryon Labs, 3D Robotics, DJI, Parrot, PrecisionHawk, DroneDeploy, Yuneec, Cyberhawk Innovations, Strat Aero and Dragonfly Innovations were the top manufacturers of enterprise drones in 2018.
Geographic reference: United States
Year: 2017 and 2023
Market size: 84,000 and 1,465,000 respectively
Sources: Nicholas Shields, "UberEats is Eyeing Drone Deliveries," Business Insider, October 24, 2018 available online here; John Sifton, "A Brief History of Drones," The Nation, February 7, 2012 available online here; Kashyap Vyas, "A Brief History of Drones: The Remote Controlled Unmanned Aerial Vehicles," Interesting Engineering, January 2, 2018 available online here; Ed Darack, "A Brief History of Quadrotors," Air & Space, May 19, 2017 available online here; "Drones: Reporting for Work," Goldman Sachs, 2016 available online here; John Patterson, "An Aerial View of the Future – Drones in Construction," Geospatial World, September 5, 2018 available online here; Meg Gerli, "Agricultural Uses of Drones," November 9, 2017 available online here; Michael R., "Top 10 Drone Manufacturers in the Global Commercial Drone Industry – Flying High in a Competitive Business," Technavio Blog, March 20, 2018 available online here.
Original source: Business Insider Intelligence estimates.
Image source: StockSnap, "mountain-sky-clouds-nature-drone-2574006," Pixabay, August 2, 2017 available online here.