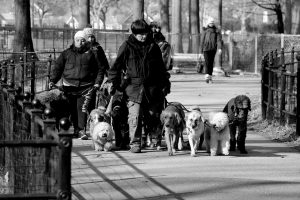 According to the 2017-2018 APPA National Pet Owners Survey, 84.6 million households in the United States own a pet. This equates to 68% of all U.S. households, up from 56% thirty years earlier. The total number of pet dogs exceeds the number of pet-owning households by 5.1 million. Many households are caring for multiple dogs.
Owners spent more than $66.7 billion dollars on their pets in 2016. Spending for 2017 was expected to increase by nearly $3 billion. Most people who own pets consider them part of the family. Their spending reflects that attitude. Besides spending on the basics such as food and healthcare, many owners spend money on pet services such as grooming, boarding, pet sitting and dog walking. In 2016 owners spent a total of $5.76 billion on all types of pet services and were expected to spend even more in 2017.
Today's market size shows the total amount earned by professional dog walkers in 2017. There were 27,838 dog walking businesses in the United States employing 28,576 people, according to IBISWorld.
Geographic reference: United States
Year: 2017
Market size: $1 billion
Sources: "Dog Walking Services in the US: Market Research Report," IBISWorld, September 2017 available online here; "Pet Industry Market Size & Ownership Statistics," American Pet Products Association Press Release available online here.
Image source: robynhobson, "park-dog-walk-entrepreneur-606334," Pixabay, January 1, 2000 available online here.