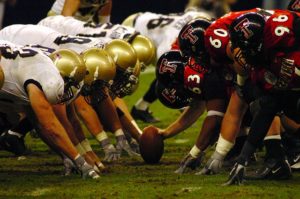 College football guarantee games are mostly non-conference games arranged by contract among opponent schools, in most cases many years in advance. These contracts involve payment to one or both of the schools involved. While these types of games have been in existence for many years, payments have skyrocketed in the past decade and a half from several hundred thousand dollars per contract to several million dollars per contract.
In some cases, larger schools hand-pick their opponents, sometimes smaller schools that they're presumably likely to beat, while paying the smaller schools an amount more than the revenue the smaller schools are likely to earn by ticket and merchandise sales. In other cases, matchups are chosen based on the strength of both teams, thereby giving their schedule a presumed advantage with the College Football Playoff selection committee. A matchup between two strong teams may also generate more revenue from fans and higher ratings from television broadcasts.
Today's market size is the estimated amount of money exchanged during the regular 2017 college football season for guarantee games involving teams in the Football Bowl Subdivision (FBS). In 2017 there were more than 200 guarantee game contracts with teams in the FBS.
Geographic reference: United States
Year: 2017
Market size: More than $150 million
Source: Berkowitz, Steve, "Guarantee Games Grow in Stature," USA TODAY for the Lansing State Journal, August 30, 2017, page 5C.
Original source: USA TODAY Sports
Image source: Skeeze, "Football-american-scrimmage-line-557206," Pixabay, December 9, 2014 available online here.