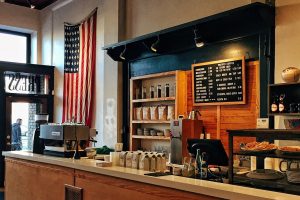 According to the National Coffee Association's 2017 National Coffee Drinking Trends report, 62% of Americans drink coffee on a daily basis and 46% of coffee consumed is done so away from home. Although the recent popularity of coffee cafes may be traced back to the 1990s when Starbucks expanded across the country, TV show friends were seen hanging out at Central Perk coffeehouse, and laptops and wi-fi allowed workers to work from anywhere, coffee cafes are nothing new. The first public place to serve coffee dates back to 1475 in Constantinople, Turkey (now Istanbul).
Today's market size shows the total sales of coffee cafe chains in the United States in 2016. The top three coffee cafe chains, in terms of sales, are Starbucks (estimated $14.7 billion, accounting for nearly 60% of the total sales at coffee cafe chains in the U.S.), Dunkin' Donuts ($8.2 billion), and Tim Hortons (estimated $760 million).
Geographic reference: United States
Year: 2016
Market size: $24.8 billion (a 9.7% increase from 2015)
Sources: "Coffee Cafe," Restaurant Business, June 2017, page 55 available online here; Paajanen, Sean, "The Evolution of the Coffee House," The Spruce, November 27, 2016 available online here; Mock, Brentin, "What Made Coffeehouse Culture Go Boom?" CityLab, January 23, 2017 available online here; Auffermann, Kyra, "From Brew Boomers to the Gourmet Generation: National Coffee Drinking Trends 2017," The First Pull, National Coffee Association, March 28, 2017 available online here; DeRupo, Joe, "Daily Coffee Consumption Up Sharply," National Coffee Association News Release, March 25, 2017 available online here.
Original source: Technomic's Top 500 Chain Restaurant Report
Image source: Free-Photos, "coffee-shop-american-flag-america-1081713," Pixabay, January 7, 2016 available online here.