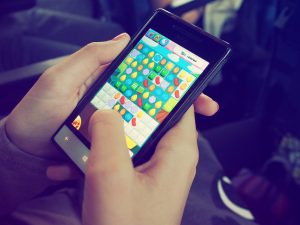 The number of active gamers worldwide exceeds 2.3 billion, 46% of whom buy video games. Video game enthusiasts not only play video games, they read about them and discuss them in online communities. They also watch esports and their favorite players on video game streaming services.
Video games have come a long way since Atari's Pong debuted in arcades in 1972. Graphics have improved greatly, from 8-bit in the 1970s, 3D in the 1990s and high-definition in the early 2000s to augmented and virtual reality currently. Video game enthusiasts have a wide range of genres to choose from: action, adventure, role-playing, strategy, simulation, sports, logic, and trivia, to name a few. Gamers can play against the computer, with a few friends, or as part of a team in massively multiplayer online games.
Worldwide, mobile games are expected to generate 51% of video game sales in 2018, console games 25% and PC games 24%. Smartphone game revenue is projected to reach $56.4 billion in 2018, more than 80% of total mobile gaming revenue.
Today's market size shows the projected global sales of video games in 2018 and 2021. Overall, sales increased by 13.3% from 2017 to 2018. Smartphone game sales grew the most, 29.0%, followed by tablet games (+13.1%) and boxed/downloaded PC games (+4.5%). Console game sales rose 4.1% over this time period. Browser PC game sales, however, dropped 13.9%. Which games are most popular? God of War for the PS4 topped sales with nearly 4.6 million units sold in 2018, followed by Monster Hunter: World (PS4, 4.3 million) and Far Cry 5 (PS4, 3.5 million).
Geographic reference: World
Year: 2018 and 2021
Market size: $137.9 billion and $180.1 billion respectively
Sources: Leo Sun, "The World's Top 5 Video Game Markets," Lansing State Journal, August 25, 2018, page 3B; Tom Wijman, "Newzoo's 2018 Report: Insights Into The $137.9 Billion Global Games Market," June 20, 2018 available online here; "Video Game History," History, 2017 available online here; "Global Yearly Chart," VGChartz available online here.
Original source: Newzoo.
Image source: Pexels, "candy-crush-device-electronics-game-1869655," Pixabay, November 29, 2016 available online here. Use of image does not constitute endorsement.