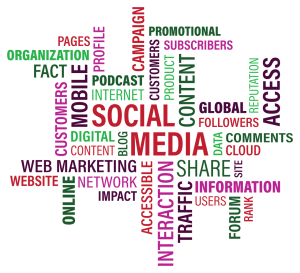 Facebook, Twitter, Instagram, YouTube, Pinterest, LinkedIn. Social media platforms with millions of active users. For businesses that have products to sell or services to offer, posting on these sites is a way for them to advertise to potential customers and to engage with current customers. In 2017, 77% of marketers used at least one social media site to promote their company's product or service; however, only 48% reported a return on their investment.
To try to increase their chances of success many companies develop social media strategies. As part of these strategies, they choose which platforms to utilize. Not all platforms may be appropriate for all types of marketing. A social media strategy considers who the target audience will be, what types of content will be posted and how often to post content. Because each platform may target a different demographic, posting the same content across all platforms is not always beneficial. Therefore, a posting schedule may need to be implemented showing what to post and when to post it to each platform.
After a strategy is in place, the work of creating the written content, images, and videos is undertaken. Companies may find that sharing relevant third-party content is also a favorable way to engage followers. Once followers are engaged, responding to comments or questions in a timely manner is important. Some companies may reach out through social media to other businesses and influencers in the same industry to increase the number of people seeing their content. Creating advertising campaigns, contests, and giveaways are other ways of promoting a product or service.
Once a strategy is in place, content is posted, and followers are engaged, a company then evaluates the strategy's effectiveness. Whether a company employs one person or a team of people to handle its social media presence, social media management tools and services exist to help a company optimize its resources. Social media management software can help employees use their time more effectively, and social media management services can provide experts at all levels of the process from strategizing to post creation, customer engagement, and analysis.
Today's market size shows the amount companies spent on social media management worldwide in 2018 and forecast for 2023. Demand for cloud-based software is expected to grow the most during this time period. Cloud-based tools can be implemented rapidly, may cost less, and are easy to use. They can also be customized to an organization's current and future needs. The major companies that provide social media management tools and services include IBM Corporation, Oracle Corporation, Salesforce, Adobe Systems, Hootsuite Inc, Sprout Social Inc., Google Inc., Sysomos, Sprinklr Inc., Digimind, Clarabridge, Spreadfast, Falcon.io, Zoho Corporation, and Lithium Technologies LLC.
Geographic reference:
World
Year:
2018 and 2023
Market size:
$9.2 billion and $17.7 billion, respectively
Sources:
"MarketsandMarkets Expects The Global Social Media Management Market Size to Grow From USD 9.2 Billion in 2018 to USD 17.7 Billion by 2023, at a Compound Annual Growth Rate (CAGR) of 14.1%,"
Cision PR Newswire
, February 25, 2019 available online
here
; Sean, "What Is Social Media Management and Why You Need a Social Media Management Company,"
LYFE Marketing Blog
, January 12, 2018 available online
here
; Robert Allen, "Does Social Media Marketing Actually Generate ROI?"
Smart Insights
, June 26, 2017 available online
here
.
Image source:
905513, "marketing-social-media-advertising-1573711,"
Pixabay
, August 8, 2016 available online
here
.