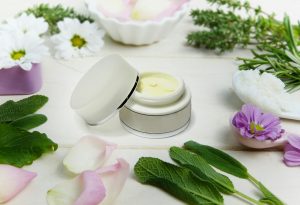 What is your New Year's resolution? Perhaps, like many, you plan to exercise more and eat less processed food and more organic, whole food such as fruits, vegetables, and whole grains. If you are a woman, maybe you want to incorporate more natural and organic personal care products into your daily care regimen.
The average American woman uses a dozen personal care products every day, one reason women, on average, are exposed to 83 more unique ingredients on a daily basis than men. The younger a woman is, the more likely she is to look for natural cosmetics and other beauty products. In a survey by beauty brand Kari Gran, 75% of women aged 18-34 said that buying natural beauty products is important to them. Fifty-four percent of women aged 55-64 said the same.
The top ingredients that buyers of natural beauty products try to avoid are fragrances, parabens, phthalates, sulfates, and gluten. Meanwhile, cosmetics companies are incorporating ingredients such as green tea, jojoba, moringa, rice, and sea buckthorn, to name a few, into their products. Individually, these ingredients are promoted as detoxifying, moisturizing, hydrating, anti-aging, and rich in antioxidants.
Today's market size shows the total sales of natural beauty products in the United States in 2017 according to Nielsen. Despite the growing demand for "clean" and "natural" beauty products, there are currently no regulations defining these terms. Worldwide, organic personal care product sales are expected to rise to nearly $25 billion by 2025.
Geographic reference: United States
Year: 2017
Market size: $1.5 billion
Source: Rina Raphael, "The Beauty Industry Goes Au Naturel," Fast Company, October 2018.
Image source: mohamed_hassan, "cream-skin-care-cosmetics-lid-3521957," Pixabay, July 2018 available online here.