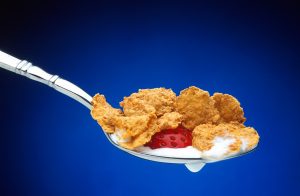 Fortified foods, such as iodized salt and vitamin-D fortified milk, originally addressed nutrient deficiencies in the general public. Some countries currently mandate the addition of folic acid to enriched flour to reduce the risk of neural tube birth defects. Most food fortification is voluntary but regulated by government entities in countries where the food is sold along with the European Food Safety Authority and the World Health Organization. The United States, for example, does not allow the fortification of fresh produce, meat, poultry or fish products. European countries do not allow fortification of unprocessed foods. Fortification of snack foods is also discouraged.
Food fortification ingredients include vitamins, minerals, probiotics, prebiotics, carbohydrates, proteins and amino acids. These added ingredients can be found in a wide variety of foods from juices, bread, and cereals to infant formula and pet food. Fortification indicates the addition of nutrients at levels higher than those naturally occurring in the food.
Today's market size shows the value of food fortification ingredients in 2016 and 2025. The figure for 2025 is projected. The food fortification market is expected to grow at a compounded annual growth rate of 14.5% between 2017 and 2025 as consumers increasingly look for foods that provide additional health benefits beyond basic nutrition, such as omega-3 fortified foods for heart health and probiotics for digestive health.
Geographic reference: World
Year: 2016 and 2025 projected
Market size: $30.50 billion and $100.84 billion respectively
Sources: "2017 Global Food Fortification Ingredients – Market Size, Market Share, Application Analysis, Growth Trends, Key Players and Competitive Strategies (2015-2025) – ResearchAndMarkets.com," Business Wire press release, February 23, 2018 available online here; "Food Fortification in Today's World," International Food Information Council Foundation, June 20, 2014, last updated December 29, 2015 available online here; "Food Fortification Ingredients Market Report 2017-2027," Visiongain, June 15, 2017 available online here.
Image source: skeeze, "cereal-spoonful-strawberry-spoon-556786," Pixabay, December 9, 2014 available online here.