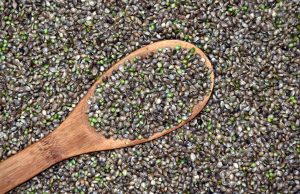 Hemp, a variety of the cannabis plant, is a widely cultivated herb grown for its edible seeds, oil, and strong woody fiber used in cordage and fabrics. Unlike marijuana, modern-day hemp contains very small concentrations of the psychoactive substance delta-9-tetrahydrocannabinol (THC), less than 0.3%. Marijuana, on the other hand, typically contains between 5% and 20%, with some types containing up to 35%. Hemp contains higher concentrations of cannabidiol (CBD), however, than marijuana. CBD is the ingredient in cannabis thought to have medicinal properties. The Federal Drug Administration in the United States recently approved the CBD-derived epilepsy drug Epidiolex. Of all the products made from hemp sold in the U.S. in 2017, consumers spent the most on hemp-derived CBD, $190 million. One of the top food trends in 2019 is expected to be CBD-infused food and drinks, increasing demand. Spending on hemp-based industrial products totaled $144 million in 2017, much of which was spent by the automotive industry.
Hemp has been cultivated for thousands of years. Its fibers were found in pottery dating back more than 5,000 years in what is modern-day Taiwan. Textiles made of hemp were used in China as far back as 4000 BC and hemp paper was first used in 100 BC. The first recorded use of cannabis as medicine was in 2737 BC. In the 1500s, hemp was used for sailcloth for the English Navy. Because of this, English farmers and later farmers in the North American colonies were required to devote some acreage to hemp cultivation. The variety of cannabis that was grown in the American colonies was Cannabis sativa, an imported variety, not the indigenous hemp known to Native Americans. The plants were grown in tight clusters, thereby creating a taller plant with fewer branches and fewer female flowers. It's the female flowers that contain high concentrations of THC. In the 18th-century, hemp was made into clothes, rope, bed ticking and sacks. During the American Revolution, it was in high demand for ropes and sails for the Continental Navy as well as for the state-sponsored fleets. Demand for it waned after the war but remained a flourishing domestic cash crop in the United States. After the Marihuana Tax Act of 19371 was implemented, which also taxed and regulated hemp, the popularity of hemp declined and many businesses shuttered. In the middle of the 20th century, calls for the prohibition of marijuana due to its intoxicating effects led to cannabis being banned in the Federal Comprehensive Drug Abuse Prevention and Control Act of 1970 signed by Richard Nixon. No provision was made to exempt industrialized hemp grown for utilitarian purposes.
As the tide of public opinion toward cannabis turned and more and more states started to legalize medical marijuana, hemp was again looked at as a viable domestic crop. The Agricultural Act of 2014, signed by President Obama, defined industrialized hemp as separate from marijuana and authorized research and pilot programs for the production of hemp in conjunction with universities and state departments of agriculture. In 2015, seven states planted research crops. Twenty-seven states removed barriers to hemp production and Colorado, Oregon, and Vermont licensed farmers to grow hemp under state law. Unfortunately, Federal law still classified hemp as a Schedule I substance so farmers could still go to jail and have their property taken away for growing hemp. This changed with the Agriculture Improvement Act of 2018, also known as the 2018 Farm Bill, that President Trump signed into law in December 2018. This law amended the Controlled Substances Act to exempt the THC in hemp from being classified as a Schedule I drug, opening up opportunities for farmers to grow and sell industrialized hemp in the United States without the worry of losing their property or going to prison due to Federal drug policy.
Today's market size shows the total sales of hemp products in the United States in 2017 and 2022 according to Hemp Business Journal estimates. *Future estimates vary widely among different groups when it comes to the largest sales category in the hemp industry, CBD-based products. Marijuana research firm Greenwave Advisors predicts that CBD product sales alone will reach $3 billion by 2021. Cannabis industry analysts at the Brightfield Group predict that sales will reach $22 billion by 2022. These higher estimates are bolstered by many factors, not the least of which is the signing of the 2018 Farm Bill into law. Also, products containing CBD are now more widely available, being sold at health food stores and in beauty aisles of mainstream retailers. More doctors are prescribing CBD products for conditions such as post-traumatic stress disorder (PTSD), anxiety, multiple sclerosis, and chronic pain. The Federal Drug Administration's approval of Epidiolex will also fuel demand. An estimated $591 million was spent on hemp-based CBD products in 2018. Demand is expected to grow as consumers continue to seek natural remedies for ailments.
1 "Under pertinent provisions of the Marihuana Tax Act, 26 U.S.C.S. §§ 4751-4753, every person who sells, deals in, dispenses, or gives away marihuana must register with the Internal Revenue Service and pay a special occupational tax." Also, a transfer tax was required to be paid and a form was to be filled out with the name and address of the buyer and seller and the amount of marihuana to be purchased. The form was to be filled out in triplicate, one copy going to the Internal Revenue Service, one copy to be kept by the buyer and the original to be kept by the seller. All copies and originals were subject to inspection by federal and state law enforcement. Source: "Marijuana Tax Act Law and Legal Definition," USLegal available online here.
Geographic reference:
United States
Year:
2017 and 2022
Market size:
$820 million and $1.9 billion*, respectively
Sources:
"The U.S. Hemp Industry Grows to $820mm in Sales in 2017,"
Hemp Business Journal
, May 20, 2018 available online
here
; "Hemp,"
Merriam-Webster
available online
here
; "The Truth Behind Hemp in the United States,"
Ministry of Hemp
available online
here
; Ben Swensen, "Hemp & Flax in Colonial America,"
Colonial Williamsburg Journal
, Winter 2015 available online
here
; "10,000- year History of Marijuana Use in the World,"
Advanced Holistic Health
available online
here
; Elisabeth Garber-Paul, "Exclusive: New Report Predicts CBD Market Will Hit $22 Billion by 2022,"
Rolling Stone
, September 11, 2018 available online
here
;
Public Law No: 115-334. Agriculture Improvement Act of 2018
available online
here
; Daniele Piomelli and Ethan B. Russo, "The
Cannabis sativa
Versus
Cannabis indica
Debate: An Interview with Ethan Russo, MD,"
Cannabis and Cannabinoid Research
, US National Library of Medicine, National Institutes of Health, January 1, 2016 available online
here
; Brian S. Julin, "Welcome to Frequently Asked Questions About Cannabis Hemp," 1994 available online
here
; "Titles II and III of the Comprehensive Drug Abuse Prevention and Control Act of 1970 (Public Law 91-513)" available online
here
; "Hemp vs Marijuana,"
Ministry of Hemp
available online
here
; "Marijuana Tax Act Law and Legal Definition,"
USLegal
available online
here
; Trevor Hughes, "It Won't Get You High, But It Can Make You Full,"
USA Today
for the
Lansing State Journal
, January 14, 2019, page 1B.
Image source:
ulleo, "hemp-cannabis-seeds-grains-healthy-2258608,"
Pixabay
, April 28, 2017 available online
here
.