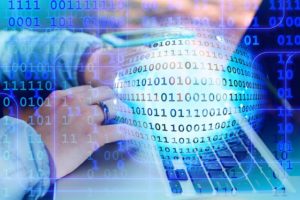 Globally the number of cyber security incidents increased 1,637% from 3.4 million incidents in 2009 to more than 59 million incidents in 2015. In the United States the number of data breaches alone increased from 446 in 2007 to 1,579 in 2017. According to Steve Langan, chief executive at Hiscox Insurance, cybercrime cost the global economy more than $450 billion dollars in 2016.
As a result of the growing threats from viruses, worms, Denial of Service attacks and other malware the need for increasingly sophisticated cyber security solutions grows year by year. In 2017 the business sector was the most vulnerable to data breaches in the United States followed by the medical/healthcare sector, accounting for 55% and 23.7% of all data breaches respectively.
Today's market size shows the amount industries around the world spent on database security in 2017 and the amount they are projected to spend in 2022. The market is expected to grow at a compounded annual growth rate of 18.9% due to the increase in the amount of data that needs protecting, the increase in malware threats, and the increase in regulations protecting the privacy and security of customers' health and financial data.
Geographic reference: World
Year: 2017 and 2022
Market size: $2.95 billion and $7.01 billion respectively
Sources: "Database Security Market by Software, Service, Business Function, Deployment, Organization Size, and Vertical Global Forecast to 2022 – Research and Markets," Business Wire Press Release, January 2, 2018 available online here; "Global Number of Cyber Security Incidents From 2009 to 2015 (in Millions)," Statista, October 2015 available online here; Luke Graham, "Cybercrime Costs the Global Economy $450 Billion: CEO," CNBC, February 7, 2017 available online here; "Data Breaches: The Insanity Continues," Identity Theft Resource Center, 2015 available online here; "2017 Annual Data Breach Year-End Review: Executive Summary," Identity Theft Resource Center, 2017 available online here.
Image source: Geralt, "Binary-hands-keyboard-tap-enter-2372131," Pixabay, June 2017 available online here.