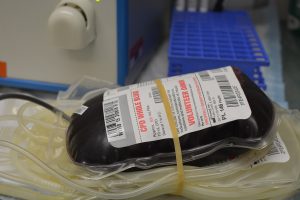 Nearly 45% of blood donors are over the age of 50 and 60% are over the age of 40. According to Marie Forrestal, president of the Association of Donor Recruitment Professionals, those who grew up during World War II and their children saw giving blood as a civic duty. They realized the importance of the country keeping an adequate supply of blood on hand. People in their 20s or 30s, however, are less likely to donate than other age groups, and as a result, as the older donors age and can no longer donate, there are fewer younger people to take their place.
Over the past decade, blood banks have focused their recruitment efforts on teenagers and young adults through blood drives at high schools and colleges and through the use of social media. Although people lined up to donate blood after tragedies like 9/11, the Pulse nightclub shooting, and more recently after the mass shooting in Las Vegas, few of those people come back to donate when the crisis has passed. From 2013 to 2017 the number of blood donors dropped by about 800,000. Because of this, some parts of the country occasionally experience blood shortages, especially during the summer, the winter holidays, and flu season.
Today's market size shows the number of blood donations in 2013 and 2017. Because of improved surgical techniques and an emphasis on blood conservation, the number of units of whole blood and red blood cells transfused dropped by 4.4% from 2011 to 2013, the last years for which data are available. During this time period, the number of donations dropped 12.1%. From 2013 to 2017, the number of units of blood donated dropped 22.5%.
Geographic reference: United States
Year: 2013 and 2017
Market size: 14.2 million units and an estimated 11 million units respectively
Sources: Aleccia, JoNel, "As Blood Donors Age, Industry Eyes Young Blood," USA Today for the Lansing State Journal, September 24, 2017, page 6B; "Survey Report Fewer Blood Collections and Transfusions in 2013," Transfusion News, September 7, 2016 available online here.
Original source: AABB
Image source: rdelarosa0, "blood-donation-give-732297," Pixabay, April 21, 2015 available online here.