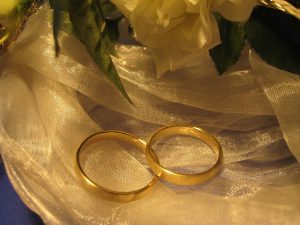 "In the Spring a young man's fancy lightly turns to thoughts of love."
— "Locksley Hall," by Alfred, Lord Tennyson
Most people are aware of these four seasons: Winter, Spring, Summer and Fall. But there is a fifth season that soon will be upon us: Wedding Season. According to Priceonomics, in 2015, 80% of marriages took place between May and October. Traditionally, June has been the most popular month to get married. Why? According to The Old Farmer's Almanac, "the goddess Juno (for whom June is named) was the protector of women in all aspects of life, but especially in marriage and childbearing, so a wedding in Juno's month was considered most auspicious." However, in more recent years, couples have been eschewing tradition and getting married in the Fall. In 2016, September and October were the most popular months for couples to get married, with June falling into third place.
Today's market size shows the amount of revenue generated in the wedding services industry in 2016. The wedding services industry includes all the businesses that work together to create a wedding event, including wedding planners, stationers, bakeries, jewelers, photographers, videographers, caterers, banquet/reception locations, event transportation and formal wedding attire businesses. According to IBISWorld estimates, the amount of revenue in this industry has increased at a 3.2% annualized rate from 2012 to 2016. Despite the rate of marriage dropping—from 9.8 per 1,000 people in 1990 to 6.9 per 1,000 people in 2016—and the number of people cohabitating rising, marriage is not becoming a thing of the past. While many couples delay getting married, when they do get married they generally have more disposable income to spend on wedding services. As a result, revenue is expected to increase year over year from 2017 to 2021.
Geographic reference: United States
Year: 2016
Market size: $72.1 billion
Sources: "IBISWorld Industry Market Research: The U.S. Wedding Services Industry is Expected to Earn Revenue of $72.1 Billion in 2016," PR Newswire, December 27, 2016 available online here; "Marriage Rate in the United States from 1990 to 2016 (per 1,000 of Population)," Statista, January 2018 available online here; Pamela N. Danziger, "Will a Booming Economy Bring a Wedding Market Boom? Not Likely," Forbes, February 16, 2018 available online here; Sarah Schmidt, "The Wedding Industry in 2017 and Beyond," Market Research.com, May 16, 2017 available online here; Christine Schultz, "Wedding Rituals: Traditional Wedding Ceremonies," The 2002 Old Farmer's Almanac available online here; Carolyn Lippo, "This is the Most Popular Month for Weddings," Redbook, April 17, 2017 available online here; "Wedding Market Research Reports & Industry Analysis," Market Research.com available online here; Renee Stepler, "Number of U.S. Adults Cohabiting With a Partner Continues to Rise, Especially Among Those 50 and Older," Pew Research Center, April 6, 2017 available online here and "Locksley Hall," Poetry Foundation available online here.
Image source: artemtation, "wedding-rings-ring-love-two-171843," Pixabay, October 3, 2009 available online here.