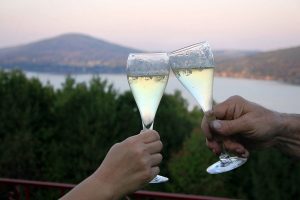 From the mid-1980s to the early 1990s, consumption of wine in the United States trended downward, however, since 1994 wine consumption has been trending upward. That year about 400 million gallons of wine were consumed. In 2016, 790 million gallons were. In the early 2000s, wholesalers began moving away from selling wine from small producers because demand for wine could be met by larger producers. As a result, owners of small vineyards began focusing their marketing efforts on tasting room experiences and direct-to-consumer sales to promote their products. In 2017, 60% of winery sales on average came from direct-to-consumer sources, more so the smaller the winery. For the largest wineries, less than 10% of sales were direct-to-consumer.
Agritourism, defined as "a commercial enterprise at a working farm, ranch, or agricultural plant conducted for the enjoyment of visitors that generates supplemental income for the owner,"1 of which winery tours are a part, grew in popularity around this time as more people became interested in experiential travel, healthy eating, learning about the food that they consume, and learning about rural, agricultural life. State and local tourism agencies began promoting wine trails, groups of wineries in close proximity that a tourist can visit in a day, as vacation destinations. These trails also offer themed events throughout the year in some cases pairing wine with food and art to appeal to a variety of visitors to the region. Restaurants, hotels, motels and other lodging options such as those offered on Airbnb2 also are benefitting from wine tourism. Today's market size shows the amount Airbnb hosts in the Finger Lakes Wine Region of New York earned in 2017. Most of the 26,600 tourists who booked Airbnb lodging in this region came from nearby cities such as New York City, Rochester, and Buffalo. The Finger Lakes Wine Region is centered around Keuka, Seneca and Cayuga Lakes and includes more than 100 wineries, distilleries, and breweries. For comparison, Airbnb hosts in the Niagara Wine Region of Canada earned $12.9 million and welcomed more than 163,000 guests.
1"What is Agritourism?" University of California Small Farm Program, June 1, 2012 available online here
2Mention of the company and its market size does not constitute an endorsement.
Geographic reference: Finger Lakes Wine Region, New York
Year: 2017
Market size: $3.8 million
Sources: The Citizen Staff, "Airbnb: Finger Lakes Wines a Draw," The Citizen, June 3, 2018; Rob McMilan, State of the Wine Industry 2018, Silicon Valley Bank, 2018 available online here; "What is Agritourism?" University of California Small Farm Program, June 1, 2012 available online here; "Leelanau Peninsula Wine Trail," America's Wine Trails, LLC available online here; "Taste," Finger Lakes Wine Country Tourism and Marketing Association, 2018 available online here.
Image source: By Flickr user: Valerie Knoblauch Canandaigua, New York https://www.flickr.com/people/visitfingerlakes/ [CC BY 2.0 (https://creativecommons.org/licenses/by/2.0)], via Wikimedia Commons